I had never been one to play the lottery on a regular basis.  I barely knew how to play.  Back in 2017, I joined a lottery pool that had been in effect for quite a few years.  On April Fool's Day, we won $5,000.00.  Had we played the multiplier, it would have been $15,000.00.  We were also one number away from winning the big jackpot which was over $100 million.  That was disappointing.  The day we went to claim our winnings we had some time to kill, so we ate lunch at a Mexican restaurant.  After we received our money, some of us decided to get a roll of tickets.  We split them, scratched them, and cashed them in for another roll either two or three times.  It was a lot of fun.  I don't remember how much we ended up with, but eventually we didn't have enough for another roll and decided to use the money for future tickets.  So since that day I realized how much fun it was, but also, I really wanted to win big.  I started playing.  I've bought a few rolls along the way and also just some single tickets.  People would laugh at my piles of losing tickets.  I wouldn't throw them any of them away.  I couldn't bring myself to, and every once in a while, I'd go through them to make sure I hadn't missed any that were winners.  
This year they came out with some new second chance drawings.  You could scan in all of your qualifying losing tickets for a second chance at winning the particular jackpots that they had set up for it.  Yall, I had so many entries, and I have not won a thin penny!  I feel like I've lost twice.  There were a couple of people who literally won in every drawing.  Either they know somebody or they're very lucky.  My lottery group and I have determined that this whole thing is one big hoax, unless you win.  I don't even think we knew any of the people who have won aside from one lady who won $25 in the first drawing.  There are two more drawings, one at the end of this month, and the other is supposed to be the first of January.  I don't have any high hopes, but I've decided to scan my remaining tickets.  At one time I had gotten discouraged because I figured I won't win anyway, but I already lost once on the tickets, so I might as well waste my time and scan in the last of them.  When work would get a little bit miserable, we would decide to put in extra for more tickets.  I was just like if we're meant to win, we're going to win regardless of whether or not we have extra tickets, so we've calmed down a lot on the extra.  Oh, and all I'm going to say about online is that I played there too, and I didn't win big.
Anyone with dreams of winning the lottery, good luck because the chances of winning are slim to none.  Now that hasn't stopped me from playing, but I don't play as often.  I've joked about how I've helped to fund my son's Pre-K education as well as a few of his classmates.  Ridiculous! One thing I do know is that anytime I'm buying a ticket, I'm taking a gamble.  If you do choose to gamble, be sure to do it responsibly.
In case anyone's wondering, "No, I haven't won enough to quit my job yet." If you do, please remember me, and give me a nice chunk of your winnings.
Check out a losing ticket.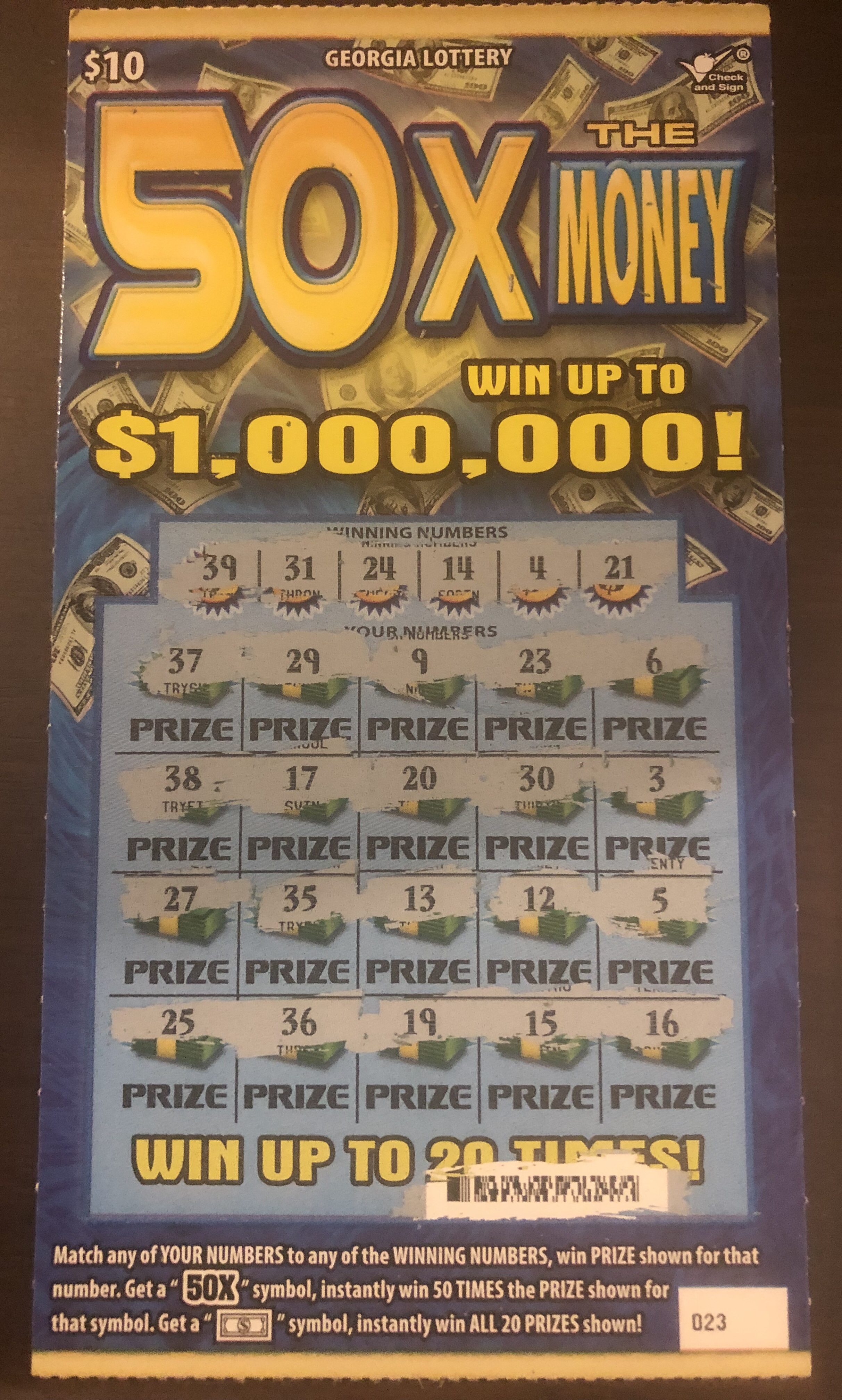 Until next time,
It's me